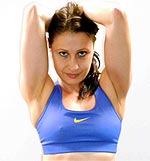 Silvia Buehler Espiritu
Weight: 130
Height: 5'7"
Size: xs/s
Eyes: Blue-green
Hair: Dark Brown long

Being a native German speaker, Silvia was born in Germany and grew up in a small town called Amstetten, in the south of Germany, between Munich and Stuttgart Silvia has been living in Los Angeles for almost four years now. Having passion for fitness, Silvia became a Personal Trainer and enjoys training people and helping them to achieve their individual fitnessgoals. Fitness, healthy lifestyle and positive attitude are my passions and I am motivated to help other people achieving their individual fitness goals. Consistency, discipline and balance are the key ingredients to a healthy lifestyle. Fitness has always been a very important part of my life. Through out high school Silvia was part of a handball team where she was able to show her athletic skills and where she found a way to openly express herself.
Silvia Buehler Espiritu is a certified Personal Trainer and is current working on becoming a Group Fitness Instructor. She has helped train and coach many individuals in achieving their individual fitness goals through effective training and nutritional advice.
SILVIA'S DIET PLAN:
BREAKFAST: 1 cup of coffee, 1 cup of greek yoghurt, 6 eggs whites and 1/2 cup of oatmeal (plain)
SNACK: 1 small piece of fruit and 1 protein shake
LUNCH: 1 cup of veggies, whole wheat bread with tuna and small salad
SNACK: protein shake and 2 egg whites
DINNER: 1 cup of salad, avocado with veggies, 1 serving of lean protein like fish or tofu, 1 cup of steam brown rice or 1 small sweet potato.
SNACK: 1 cup of cottage cheese before bedtime.
Click on the image to enlarge
SILVIA'S WORKOUT PLAN:
• MONDAY WORKOUT:
CARDIO WARM UP 15 MIN
SHOULDER AND BACK
ABS
KICK BOXING CLASS

• TUESDAY WORKOUT
CARDIO WARM UP 10 MIN
CHEST AND TRICEPS
ABS
SPRINTS ON TREADMILL FOR 30 MIN
• WEDNESDAY WORKOUT
CARDIO WARM UP ON STEPPER
30 MIN RUNNING
ABS
• THURSDAY WORKUT
CARDIO WARM UP 15 MIN
HEAVY LOWER BODY WORKOUT
ABS
• FRIDAY WORKOUT
HIT WORKOUT FOR 45 MINTUES
BICEP AND BACK
ABS
• SATURDAY WORKOUT
CARDIO KICKBOXING CLASS
HAMSTRINGS AND INNER/OUTER THIGHS
• SUNDAY IS ACTIVE REST DAY
I DO ACTIVITIES LIKE SWIMMING, HIKING ETC...